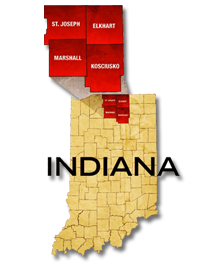 Indiana Title Search Services
Our Products
Quantum Title Research, LLC is a full-service title abstracting company operating in St Joseph, Elkhart, Marshall, Kosciusko and Starke counties in Indiana. We offer a wide range of title, asset, and criminal search products. Our staff of professional employees are specialized in various areas of expertise. Contact our office, and we will get you to the right department. Quantum Title Research, LLC has solutions for the following research needs:
Title Abstracts & Research Products
Full Searching Products
Segmented Searches
A La Carte Searches
Criminal Search Services
Asset Search Services
Environmental Research and Testing Solutions
Repossession and Recovery Solutions
All of our research reports are typed for easy viewing.
Title Abstracts & Research
Questions: Inquiry@qt-research.com
New Orders: orders@qt-research.com or fill out our online form
Full Searches
Segmented Searches
At times, only certain aspects of a title search are needed to be completed. These are cheaper solutions that may meet your needs.
Chain of Title Search [Order]
This will uncover the title history for the subject property for a specified period of time.


Judgment Search [Order]
A search performed at the county clerks office that will report civil judgments, small claims, and state tax liens on an individual or entity.


Tax & Assessment Search [Order]
A report identifying the subject property by tax identification number (tax folio number). Includes assessed value of the subject property, exemptions (homestead and/or widow or any other exemptions) and tax payment status.


A La Carte Searches
Title Search Sub-Categories
* County Documents are $1 per page in addition to the search price (please indicate what your copy requirements will be). Certified Copies are also available.
"Let our team of local title abstractors handle all of your real estate researching needs!"
Search of criminal charges and/or convictions against an individual. Contact criminal@qt-research.com for more information on felonies, misdemeanors, and traffic charges.
Asset Search
Contact our Asset Department for details. AssetHunt@qt-research.com
Environmental Research and Testing Solutions
Provided by ENVIROSOLUTIONS
We are Committed to
Services for
Attorneys
Title Companies
Vendor Management Companies
Engineers
Government Agencies
Professional Firms or Businesses
Individuals
Products of Interest
Our Indiana Service Area
Site Map