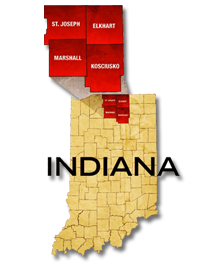 Indiana
Title Abstract and Title Insurance Company
Quantum Title Research, LLC offers Title Abstract and Title Insurance services in Indiana.
Title Abstract and Title Insurance Company
Title Insurance is a form of indemnity insurance predominantly found in the United States which insures against financial loss from defects in title to real property and from the invalidity or unenforceability of mortgage liens. An abstract of title is the condensed history of title to a particular parcel of real estate, consisting of a summary of the original grant and all subsequent conveyances and encumbrances affecting the property and a certification by the abstractor that the history is complete and accurate.[1]
1. Wikipedia®
Return to Indiana Title Search Services page.
We are Committed to
Services for
Attorneys
Title Companies
Vendor Management Companies
Engineers
Government Agencies
Professional Firms or Businesses
Individuals
Products of Interest
Our Indiana Service Area
Site Map