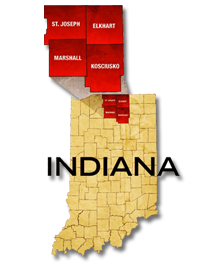 Who We Are
Quantum Title Research, LLC is a full-service title abstracting company operating in St Joseph, Elkhart, Marshall and Kosciusko counties. We are in close proximity to the county city building and courthouse. Our Company provides statewide, local, and national title companies, attorneys, vendor management companies, and individuals with a local hands-on knowledge base. We provide accurate and reliable real estate title searches and documents in hours, not days, so you can focus on your core competencies.
The heart of our staff at Quantum Title Research, LLC began its roots at a local title company established by the owner of National Attorney's Title Assurance Fund. (NATAF) was a title underwriting company that wrote title policies for title insurance companies and was also a centerpiece for a network of foreclosure attorney's statewide. NATAF searching procedures were used when performing pre-foreclosure and post-foreclosure (REO) title abstract searches in Indiana for real estate law firms and resellers. Moving forward, we have seen an increase in demand for title products that are returned promptly. In addition is an increase need for communication to update our clients on order status. With this being said, we set our sights on how we could develop a process to enhance the need for these feature sets. To meet these needs we developed Electronic Abstract Systemssuite (EASY). This software package allows for the collaboration and dissemination of information across a team of searchers and examiners internally on the network or externally across town. With this centralized control center, title information can be shared and examined in real-time eliminating hours of time spent in transit waiting on abstractors in the field to deliver the data. In addition, we have positioned ourselves adjacent to the county building to retrieve or record documents, or perform a number of different title abstracting services that we offer.
Electronic Abstract SYstems (EASY) also allows for up to the minute status reports via our EASY Progress reports system. These reports are also emailed out to clients to keep them informed. Our in house staff is also available to answer questions or provide status. Please feel free to contact us at any time. We at Quantum Title Research, LLC think of ourselves as an extension of your company. Our staff of experienced title examiners have many years of experience in full service title branches. We have all been in your shoes at some point in time and understand the complexities of title and the increasing time demands that companies are faced with. Our mission is to minimize, and ultimately eliminate the frustrations that fall into the regional areas that we cover. We have concentrated our resources into a smaller coverage area to provide the best possible service for this area.
Thank you for allowing us to work with you,
The Quantum Title Research, LLC Exam Team.
We are Committed to
Services for
Attorneys
Title Companies
Vendor Management Companies
Engineers
Government Agencies
Professional Firms or Businesses
Individuals
Products of Interest
Our Indiana Service Area
Site Map