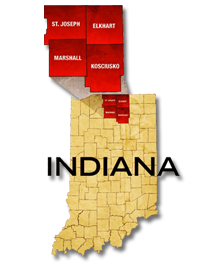 Marshall County, Indiana
Property Title & History
Quantum Title Research, LLC offers Property Title & History services in Marshall County, Indiana. We provide convenient service for Plymouth, Bremen, Bourbon, Culver, Lake Maxinkuckee, Argos, La Paz and Lake of the Woods Indiana.
Property Title & History
Property title and registration generally describes systems by which matters concerning ownership, possession or other rights in land can be recorded (usually with a government agency or department) to provide evidence of title, facilitate transactions and to prevent unlawful disposal. A chain of title is the sequence of historical transfers of title to a property. The "chain" runs from the present owner back to the original owner of the property.[1]
1. Wikipedia®
Return to Marshall County, Indiana Title Search Services page.
We are Committed to
Services for
Attorneys
Title Companies
Vendor Management Companies
Engineers
Government Agencies
Professional Firms or Businesses
Individuals
Products of Interest
Our Indiana Service Area
Site Map