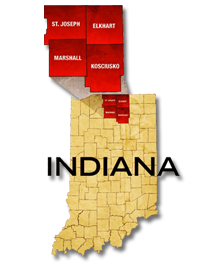 Marshall County, Indiana
Document Retrieval
Quantum Title Research, LLC offers Document Retrieval services in Marshall County, Indiana. We provide convenient service for Plymouth, Bremen, Bourbon, Culver, Lake Maxinkuckee, Argos, La Paz and Lake of the Woods Indiana.
Document Retrieval
Document Retrieval is a search that is performed for a specific document, such as, a Mortgage, Assignment, Release, Deed, Judgment, etc. The documents can be copies, county certified copies, or an abstracted report.&nbsp The abstracted report contains the information just as it appears on the document itself.&nbsp If the instrument number is supplied, we can offer this service at a discount.
Return to Marshall County, Indiana Title Search Services page.
We are Committed to
Services for
Attorneys
Title Companies
Vendor Management Companies
Engineers
Government Agencies
Professional Firms or Businesses
Individuals
Products of Interest
Our Indiana Service Area
Site Map