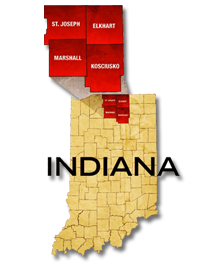 Marshall County, Indiana
Current Owner Title Search
Quantum Title Research, LLC offers Current Owner Title Search services in Marshall County, Indiana. We provide convenient service for Plymouth, Bremen, Bourbon, Culver, Lake Maxinkuckee, Argos, La Paz and Lake of the Woods Indiana.
Current Owner Title Search
A search of public records from the execution date of the current deed of record for the subject property forward and complete information from that deed, including legal and parcel number as reported by the county. In addition, we convey complete information on open mortgages, federal and state tax liens, UCC's, leases, pending suits and judgments, and any other related lien, or encumbrance, that may affect the property. Real estate taxes, assessment information, and out sales are also documented.
Return to Marshall County, Indiana Title Search Services page.
We are Committed to
Services for
Attorneys
Title Companies
Vendor Management Companies
Engineers
Government Agencies
Professional Firms or Businesses
Individuals
Products of Interest
Our Indiana Service Area
Site Map