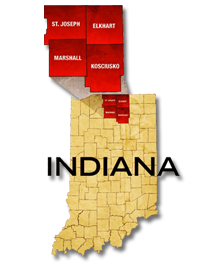 Kosciusko County, Indiana
Lien and Encumbrance Searches
Quantum Title Research, LLC offers Lien and Encumbrance Search services in Kosciusko County, Indiana. We provide convenient service for Warsaw, Syracuse, Lake Wawasee, Winona Lake, North Webster, Pierceton and Milford, Indiana.
Lien and Encumbrance Searches
A lien or encumbrance is a form of security interest granted over an item of property to secure the payment of a debt or performance of some other obligation.[1]
1. Wikipedia®
Return to Kosciusko County, Indiana Title Search Services page.
We are Committed to
Services for
Attorneys
Title Companies
Vendor Management Companies
Engineers
Government Agencies
Professional Firms or Businesses
Individuals
Products of Interest
Our Indiana Service Area
Site Map