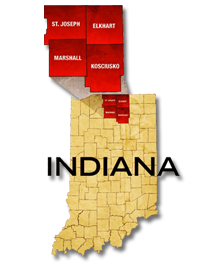 Kosciusko County, Indiana
Document Recording Services
Quantum Title Research, LLC offers Document Recording Services in Kosciusko County, Indiana. We provide convenient service for Warsaw, Syracuse, Lake Wawasee, Winona Lake, North Webster, Pierceton and Milford, Indiana.
Document Recording Services
Document Recording is a service we provide to get an original document officially recorded at a County Recorder's Office. This service puts that document and its information in the official records of that county. The recording information and/or the officially recorded document is returned back to you. If the officially recorded document is not available immediately upon recording, in most cases we can provide a county conformed copy with recording information stamped on a copy of the document.
Return to Kosciusko County, Indiana Title Search Services page.
We are Committed to
Services for
Attorneys
Title Companies
Vendor Management Companies
Engineers
Government Agencies
Professional Firms or Businesses
Individuals
Products of Interest
Our Indiana Service Area
Site Map