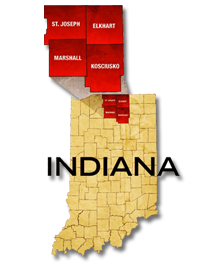 Elkhart County, Indiana
Witness Closing and Notary Services
Quantum Title Research, LLC offers Witness Closing and Notary services in Elkhart County, Indiana. We provide convenient service for Elkhart, Goshen, Middlebury, Simonton Lake, Dunlap, New Paris, Wakarusa and Nappanee, Indiana.
Witness Closing and Notary Services
This service is provided to all title companies, attorneys, lenders, real estate agents, and individuals who may need an experienced agent to provide a convenient and affordable service to their client in Elkhart and St Joseph County. Mobile closings and weekend closings are available.
Return to Elkhart County, Indiana Title Search Services page.
We are Committed to
Services for
Attorneys
Title Companies
Vendor Management Companies
Engineers
Government Agencies
Professional Firms or Businesses
Individuals
Products of Interest
Our Indiana Service Area
Site Map