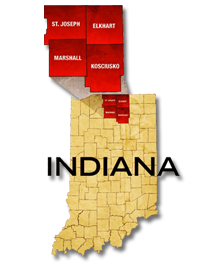 Elkhart County, Indiana
Commercial Title Search
Quantum Title Research, LLC offers Commercial Title Search services in Elkhart County, Indiana. We provide convenient service for Elkhart, Goshen, Middlebury, Simonton Lake, Dunlap, New Paris, Wakarusa and Nappanee, Indiana.
Commercial Title Search
We have several products that can fit the need for any individual or company seeking a residential or commercial title search:
Title Abstracts & Research
Questions: Inquiry@qt-research.com
New Orders: orders@qt-research.com or fill out our online form
Full Searches
Segmented Searches
At times, only certain aspects of a title search are needed to be completed. These are cheaper solutions that may meet your needs.
Chain of Title Search
This will uncover the title history for the subject property for a specified period of time.


Judgment Search
A search performed at the county clerks office that will report civil judgments, small claims, and state tax liens on an individual or entity.


A La Carte Searches
Return to Elkhart County, Indiana Title Search Services page.
We are Committed to
Services for
Attorneys
Title Companies
Vendor Management Companies
Engineers
Government Agencies
Professional Firms or Businesses
Individuals
Products of Interest
Our Indiana Service Area
Site Map